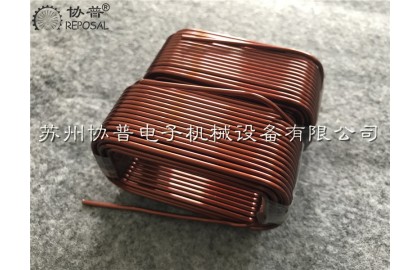 04/05/2020 | 协普/REPOSAL®绕线机Winding machine
Winding machine
, when people talk about it, usually refers to a machine that uses enameled wire as a material to form a coil. In the impression, this should be a very simple machine or even some people's printing should be summarized as a simple Power tools. But in fact, this is an industry with a very wide variety, a wide range of coverage, and complex technical characteristics.
From the processed products, such as the single-axis CNC winding machine for processing high-frequency transformer coils, the winding axis rotates, and the winding axis moves accordingly according to the set pitch. This is a relatively simple winding machine. For example, ordinary relays are characterized by the small diameter of the enameled wire and the relatively large number of turns, so the rotation time of the main shaft of the winding machine is long.The ordinary electromagnetic coil does not have too high requirements for the accuracy of the wiring, so the main requirement for the machine is the speed High and stable tension.
Then there is the precision electromagnetic coil, which is also an electromagnetic coil, but because this coil has temperature resistance requirements, response speed requirements, wire package volume requirements, and product consistency requirements, it is required that the winding machine be wound during winding. Each wire is neatly arranged, so to achieve this accuracy, there are strict requirements for all process factors in the winding process.
There is the rotation accuracy of the winding spindle of the winding machine. The control accuracy of the winding machine controller, the repeating positioning accuracy of the wire screw, the roundness of the enameled wire, the diameter of the enameled wire, the rotation of the tooling behind the main shaft of the winding machine Accuracy, tension control of the enameled wire, parallelism of the two ends of the cable cavity during winding, dimensional accuracy, and also includes the structural design of the cavity during cable routing, and the design of stripping after winding. It is directly related to the success of the winding accuracy.
Showing 1 to 18 of 18 (1 Pages)